Setting Up COMSOL® Simulations with LiveLink™ for SOLIDWORKS® Webinar - Archived
This is a recording of a webinar that originally aired on Feb 22, 2018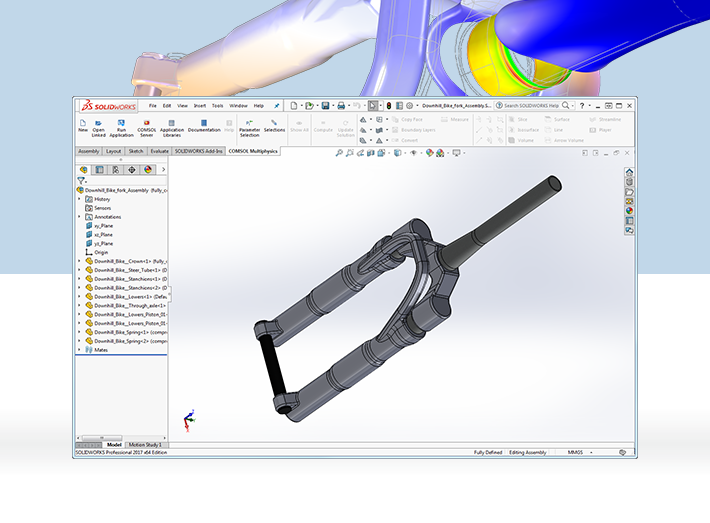 Tune into this webinar to learn how to incorporate CAD designs prepared in the SOLIDWORKS® software into simulations in the COMSOL Multiphysics® software.
We will discuss and demonstrate the functionality of the LiveLink™ interface, which connects the two software products and enables an efficient simulation setup using CAD designs, including the possibility to automatically optimize the design.
During this presentation, we will discuss how to:
Work in the two software products, either side by side or inside the SOLIDWORKS® user interface
Synchronize a CAD design between SOLIDWORKS® and COMSOL Multiphysics®
Control design parameters from a COMSOL Multiphysics® simulation
Define selections on the CAD design to speed up the simulation setup
Run automated parameter sweeps to optimize a CAD design
You can ask questions throughout the webinar or at the end during the Q&A session.
SOLIDWORKS is a registered trademark of Dassault Systèmes SolidWorks Corp.
Archived Webinar Details
Speaker
Lorant Olasz
COMSOL AB
Lorant Olasz joined COMSOL in 2006 and is the technical product manager for the CAD Import and ECAD Import modules, LiveLink™ for CAD products, and LiveLink development team. Previously, he was a product specialist in structural mechanics. He received his PhD in solid mechanics from the Royal Institute of Technology, Stockholm.