SC Solutions, Inc.

SC Solutions (SC), located in Sunnyvale, CA in the heart of the Silicon Valley, provides modeling and simulation services for a wide range of applications. Our use of physics-based models is a key enabling technology which allows us to accurately capture input-output behavior of industrial equipment and processes. These high-order finite element models are used to analyze equipment performance in optimizing existing designs, or helping develop next-generation equipment. Reduced-order versions of these dynamic physics-based models that run in real-time are used in model-based control, virtual sensing, and process optimization solutions for our customers.
SC provides consulting and R&D services, and also delivers software products to the semiconductor and advanced materials manufacturing, energy, infrastructure, aerospace, and defense industries. Our team has extensive experience in the modeling of physical systems, control design, software development, optimization, system identification, fault diagnostics, and signal processing.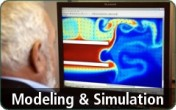 The COMSOL models we develop encompass cross-disciplinary areas such as heat, flow and species transport, chemical kinetics, electromagnetics, and electrochemical processes applied to various techniques for thin film deposition, material removal, and thermal systems. Some of SC's specific modeling applications include:
Rapid Thermal Processing (RTP)
Chemical Mechanical Polishing (CMP)
Chemical Vapor Deposition (CVD): Epitaxy, MOCVD, Tungsten, Diamond (Arc/Microwave)
Physical Vapor Deposition (PVD): CIGS for Solar Panels, YBCO, RF-diode sputtering (plasma)
Furnaces: Atomic Layer Deposition (ALD), Hot Isostatic Pressing (HIP), High-pressure Oxidation
Thermal Stress modeling
Copper Electroplating /Electropolishing
RF Inductive Heating
Ceramics Drying (porous media)
Heat Transfer in Combustion Systems
Molecular Beam Epitaxy (MBE)
Direct Simulation Monte Carlo (DSMC) transport
As a Certified COMSOL Consultant, we help our customers analyze and improve their understanding of their current products and processes. Aside from delivering the results of COMSOL model simulations, we also customize COMSOL models for routine in-house simulations by the customer. We work closely with our customers from the very beginning of the product development cycle. Our models help in guiding the equipment design process and significantly reduce time-to-market. SC's model-based process control solutions have been proven in the field for over a decade. Please visit our website, or contact us for more about our capabilities and experience.
Address & Contact Information
Jon Ebert
SC Solutions, Inc.
1261 Oakmead Parkway
Sunnyvale, CA 94085
Phone: (408) 617-4522
Fax: (408) 617-4521
Email:comsol@scsolutions.com
www.scsolutions.com/public/service/modeling.html