While designing a structure, have you ever been unsure of how to achieve the best shape? If so, then you will want to add a useful technique called shape optimization to your COMSOL Multiphysics modeling skill set. Today, we will discuss the concept of shape optimization and demonstrate its use through a classical problem.
Read more
---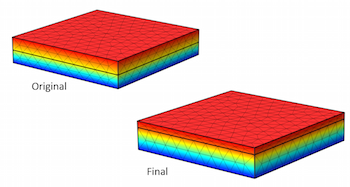 In this blog post, we will introduce the concept of shape optimization for adjusting part dimensions by using analytic sensitivity methods. If you have a single objective function that you want to improve, a set of geometric parameters that you want to change, as well as a set of constraints, then you can use the functionality of the Optimization Module and the Deformed Geometry interface in COMSOL Multiphysics to find the optimal structure without any remeshing. Let's find out how!
Read more
---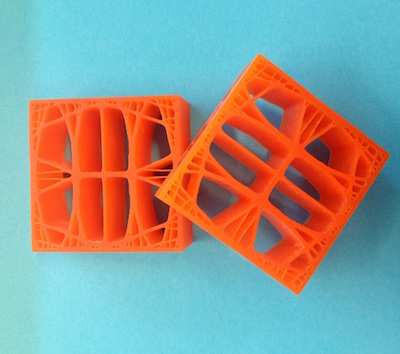 3D printing, also known as additive manufacturing, has been a popular topic of discussion on the COMSOL Blog and throughout the scientific community. New initiatives have furthered the capabilities of this technology, while extending its reach in various fields of research, manufacturing, and design. With the help of COMSOL Multiphysics, researchers at the Netherlands Organization for Applied Scientific Research (TNO) are investigating the promise of 3D printing in the realm of material design.
Read more
---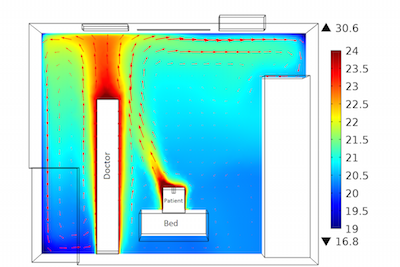 Healthcare-associated infections (HAI) affect millions of people around the globe. While the most common cause of HAI is direct contact with the source, airborne bacteria may also play a role in patient infections. To prevent airborne infection and make hospital clean rooms safer, it's important to design efficient ventilation systems. As an added benefit, efficient ventilation designs also lead to lower energy-related costs. The first step to a better design is CFD modeling.
Read more
---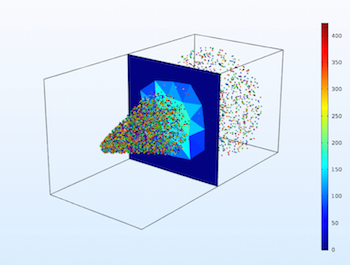 Many different tools are available for counting particles. Choosing the optimal method depends on the application; specifically, whether you want to use the number of counted particles in equations or during postprocessing. The Particle Tracing interfaces in COMSOL Multiphysics feature three main particle counting options. While these approaches are versatile enough to compute quantities such as charge density and momentum flux, our focus here will be computing the number of particles on a set of domains or boundaries.
Read more
---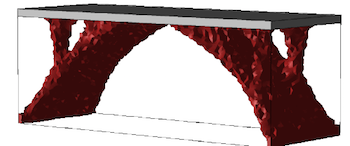 Think about the first architects who designed a bridge above water. The design process likely included several trials and subsequent failures before they could safely allow people to cross the river. COMSOL Multiphysics and the Optimization Module would have helped make this process much simpler, if they had computers at the time, of course. Before we start to discuss building and optimizing bridges, let's first identify the best design for a simple beam with the help of topology optimization.
Read more
---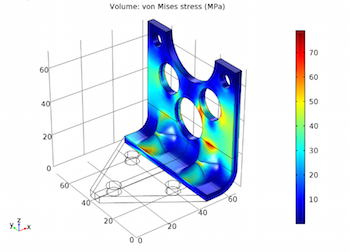 Weight reduction is a key design focus in many applications. This is particularly true in the automotive industry, where lightweight materials help foster the development of fuel efficient cars. Maintaining the structural integrity of these materials is, of course, an important concern. As we will show you today, simulation is a valuable tool for addressing this challenge.
Read more
---

Previously on the blog, we have discussed the need for appropriate measured data to fit the material parameters that correspond to a material model. We have also looked at typical experimental tests, considerations for operating conditions when choosing a material model, and an example of how to use your measured data directly in a nonlinear elastic model. Our focus today will be on how to fit your experimental data to different hyperelastic material models.
Read more
---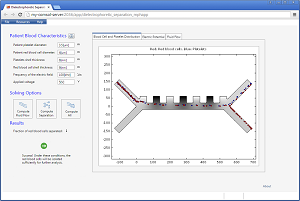 How can you use an electric field to control the movement of electrically neutral particles? This may sound impossible, but in this blog entry, we will see that the phenomenon of dielectrophoresis (DEP) can do the trick. We will learn how DEP can be applied to particle separation and demonstrate a very easy-to-use biomedical simulation app that is created with the Application Builder and run with COMSOL Server™.
Read more
---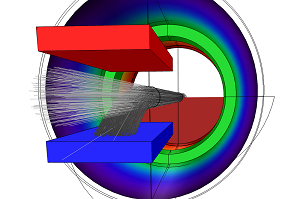 Charge exchange cells are often used as a way to obtain neutralized beams of energetic particles. In this blog post, we introduce a model of a simple charge exchange cell and analyze its neutralization efficiency.
Read more
---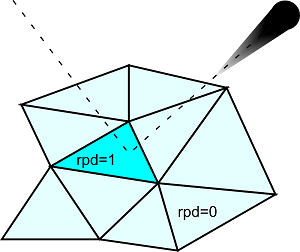 With the release of COMSOL Multiphysics version 5.0, the Particle Tracing Module now includes a series of features called Accumulators, which can be used to couple the results of a particle tracing simulation to other physics interfaces. The accumulated variables may represent any physical quantity and can be defined either within domains or on boundaries, making them extremely flexible. Here, I will explain the different types of accumulators and their applications in particle tracing and ray optics models.
Read more
---
Get new posts by email
---
Categories
---
Tags